Thermometers are a great way for you and your donors to see your progress, thermometers are available on your campaign and ticketing pages.
You can find your thermometer on your event dashboards.

Share Live Thermometer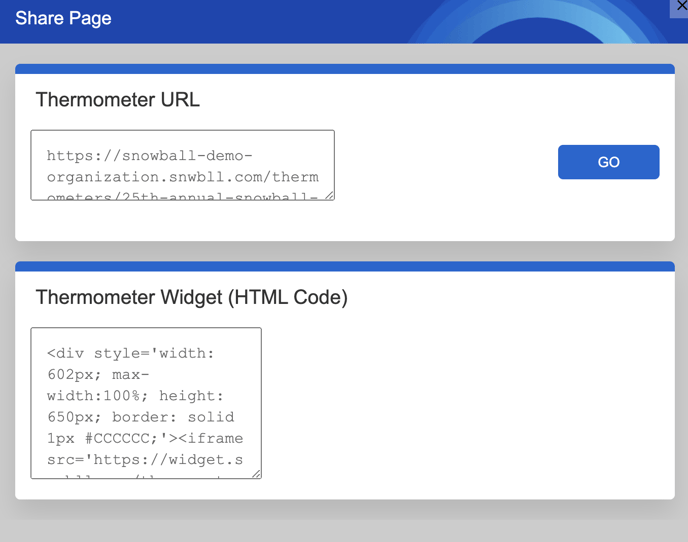 Click this button to find the hyperlink to your campaign's thermometer
1. Thermometer URL - This will provide a URL you can use as a hyper link to share and display the thermometer on a web page.
2. Thermometer Widget (HTML Code) - This embeddable code can be added to your webpages to display the thermometer, the widget allows you to post your amount raised, goal and thermometer directly onto your website
Live Thermometer Settings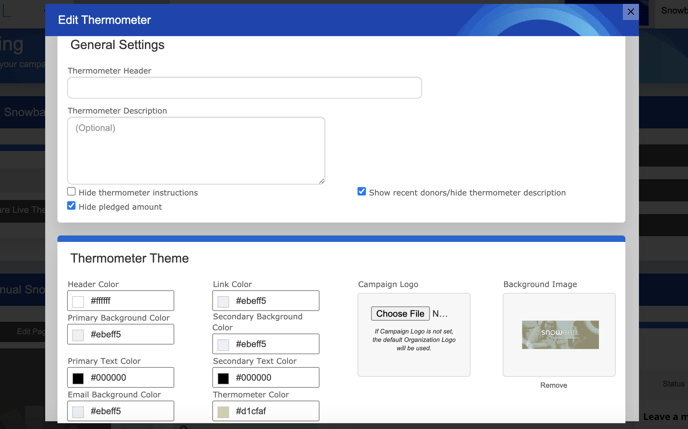 Here you can edit your thermometer.
General Settings
Thermometer Header - This is the title your donors will see
Thermometer Description - You can add a description about your event here
Hide Thermometer Instructions - This will hide the text to give instructions from being displayed on your thermometer
Hide Pledged Amount - Checking here will hide the pledged amount
Show Recent Donors/Hide Thermometer Description - Checking here will allow your donors to see the 5 most recent donors instead of the thermometer description
Thermometer Theme
Colors - Set the colors to better fit your organization's theme
Campaign Logo - You can add a different logo than your default logo here
Background Image - Add a background image to your thermometer
Thermometer Trigger
Be sure to add your text-to-give trigger word here