Thermometers are a great real-time way for you and your donors to track your campaign's progress. Thermometers are available on campaign and ticketing pages.
You can find thermometer on your Event Ticketing and Campaign dashboards. Click "View Thermometer" in any form that's equipped with a thermometer.

View Thermometer
Click the "View Thermometer" button to see your campaign's thermometer.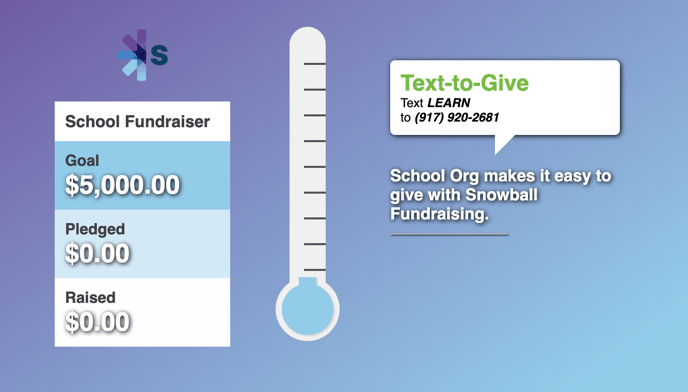 Share Live Thermometer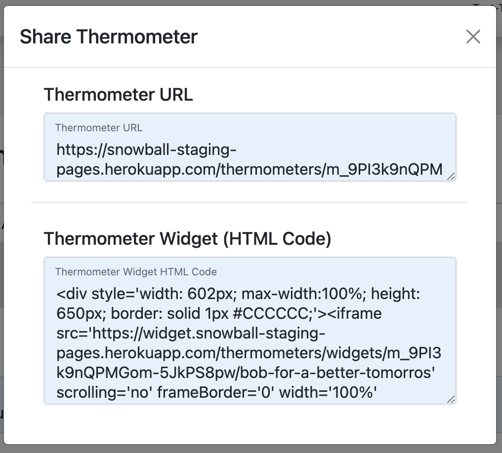 Click the "Share Thermometer" button to find the permanent URL link to your campaign's thermometer, as well as HTML code for an embeddable thermometer widget. The widget allows you to post your amount raised, goal, and thermometer directly onto your website. Just copy the HTML code and paste it into the back end of your website.
Edit Thermometer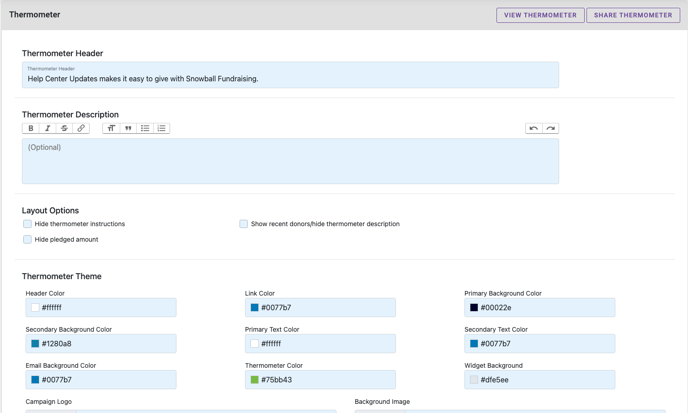 Customize what your fundraising Thermometer page will say and look like here.
Add a title in the Thermometer Header text field and optional description in the Thermometer Description field.
Layout Options
If you'd like to prominently display your organization's Text-to-Give number and event trigger word on your Thermometer page, make sure the "Hide thermometer instructions" option is unchecked. This is a great option for live events.
"Hide pledged amount" makes the Thermometer reflect only paid donations in real-time, and not include amounts from supporters who've pledged to make a donation at a later date.
Checking "Show recent donors/hide thermometer description" will allow your donors to see the 5 most recent donors instead of the thermometer description
Thermometer Theme
Use the hex code fields/color pickers to control your event's color scheme. You also have the option to upload your event's logo or add a background image.
Text-to-Give Trigger Word
If you have multiple donation forms with different Text-to-Give trigger words associated with this event, you can choose one to tie to your Thermometer here.