We know passwords can be a real hassle. That's why Snowball is proud to offer Swoop password-free login. Swoop lets you securely log in to your Snowball account without having to create or remember a password. It's easy, safe and fun!
How does it work?
Swoop is an easy and secure password-free login that relies on your email to authenticate your Snowball account. Swoop offers two ways to log in with your email:
Method 1: Get Magic Link
Click on "Get Magic Link"
Enter your email address.
Check your email and click on the magic login link.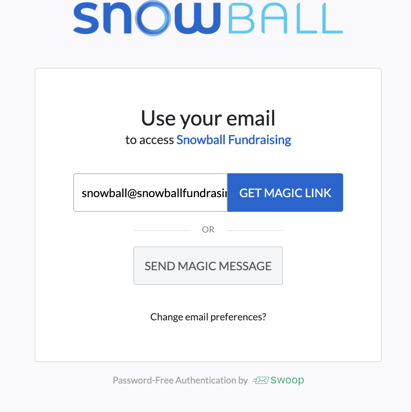 ---
Method 2: Send Magic Message
Click on "Send Magic Message"
Send the auto-generated email that pops up in your browser. No typing required!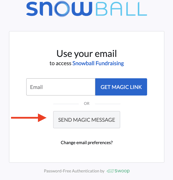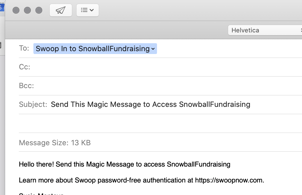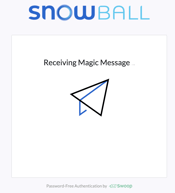 3. Once your magic message is received, you will be redirected to your Snowball Dashboard.
---
How do I configure Swoop?
If this is your first time using Swoop on a desktop computer, you will be asked if you usually check your email on a browser or on a desktop application like Outlook or Apple mail. This will enhance your Swoop login experience.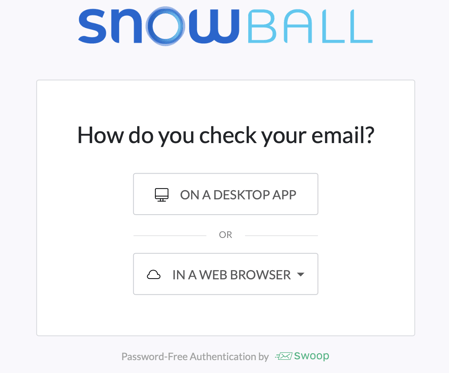 ---
Is it secure?
Yes. Swoop uses unhackable encryption and patented technology to verify that you are who you say you are. As long as your email account is secure, Swoop is secure.
---
Can I just have a password?
If you would rather use a password to log in, click on "Have a password? Log in here" on the login page. Then click on "Forgot your password?" Fill out and submit the form. A password reset link will be sent to your email address.