You can start collecting donations from supporters as soon as your Stripe account is created, but you'll need to configure your Deposit Settings before funds can be transferred to your organization's bank account.
Step 1: Create Your Stripe Account
To start fundraising, you'll just need to set up your Stripe Merchant Account in your Merchant & Deposit Settings.
Click on "Settings" at the top right corner of your dashboard. From the Settings menu, choose "Merchant & Deposit Settings." You'll see a page that looks like this at the top: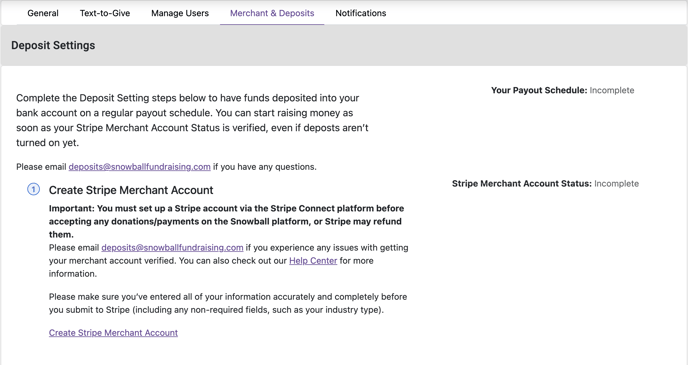 Under the Step 1 section, click the button that says "Create Stripe Merchant Account."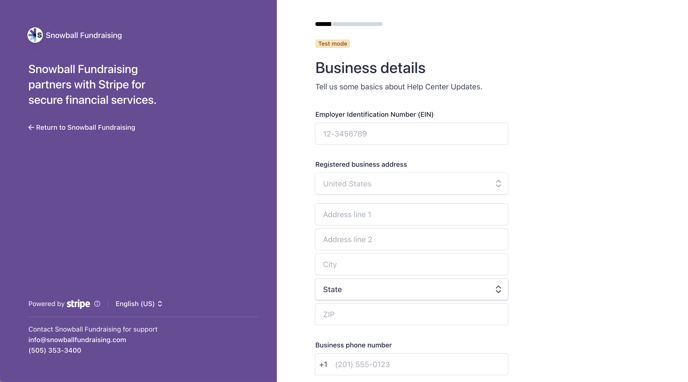 You'll be taken to a new page that looks like this. Here in the Stripe Connect platform, you'll answer basic questions about you and the organization you represent. Just fill out every field as best as you can.
Although Stripe doesn't say it's required, you'll need to select an "industry" in this section of the form if prompted to do so. If you can't find an exact match, choose the closest thing.

Once submitted and approved, you'll be ready to start fundraising. In order to have funds deposited into your bank account, proceed to Steps 2 and 3.
Please contact deposits@snowballfundraising.com if you have any questions or concerns about the Merchant Account creation and verification process.
Step 2: Turning On Deposits
In Step 2, you'll provide the account and routing number of your preferred bank account.

Once that's filled out, you'll need to verify a temporary micro-charge on a credit card. If you have a paid plan, this will be the same card that you purchased Snowball with. If you have an Essential account, please provide a card number here.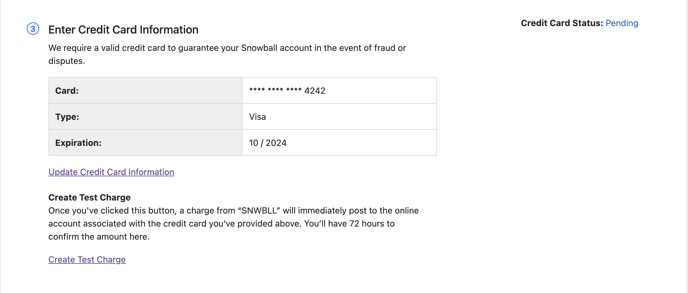 Once your credit card information is captured, please initiate an authentication charge by clicking the "Create Test Charge" button. You'll have up to 72 hours to check your online statement for a temporary charge from "SNWBLL."
Input the amount that appears on that card's statement in the space provided. If you don't see the charge on your online account, please contact your card company and ask them to look it up.
Once you've verified the amount of the charge, we will begin our underwriting process. After 3 to 5 business days, your deposits should be turned on. Once deposits are on, you'll be able to refer to the top right corner of your Deposit Settings to see your payout schedule.

And that's it! If you have any questions about your Merchant Account or Deposit Settings, please email us at deposits@snowballfundraising.com.