You can start collecting donations from supporters as soon as your Snowball account is set up, but you'll need to configure your deposit settings before funds can be transferred to your organization's bank account.
Step 1: Complete Your Merchant Settings
To add your bank account for deposits, hover over your Organization name in the main navigation bar and click on Settings, then click on Merchant Settings.


You will be sent to the Stripe verification page, you will need an EIN number to fully verify your account.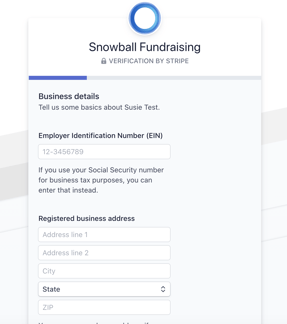 We ask that you designate an Organization Representative for your account. This can be anyone associated with your organization who has a social security number. (Please note that Snowball Fundraising and our merchant partners do not share or use this information to perform credit checks. We are simply ensuring that there is a real person behind your account.) We typically require only the last four digits of the SSN. In some rare cases, to provide further verification, we may ask for the entire SSN. Please note that when providing an Organization Representative name, you must provide the legal name that is displayed on that person's social security card.
Please contact support@snowballfundraising.com if you have any questions or concerns about the merchant account creation and verification process.
Step 2: Connect to your bank account
To add your bank account for deposits, click on Deposit Settings.

Step 3: Turn on deposits
Once you've connected your bank account, you'll need to submit a one-time verification request for deposits. Please email your request to deposits@snowballfundraising.com. Include your organization name and contact number, and we will go through a quick verification to turn on deposits. Once activated, you should see your first deposit 2-3 business days later.