Snowball Campaigns let you organize and keep track of your organization's initiatives. You can create goals, thermometers, generate Snowball Giving Pages and monitor progress all at a glance.
On This Page:
Campaign Dashboard Settings
Edit Page
Form Theme
Amount Settings
Custom Fields
Organization Contacts & Messaging
Other Settings
Additional Dashboard Settings
To set up your first campaign, navigate to Fundraising Tools, then Campaigns. Your Premium account includes unlimited campaigns!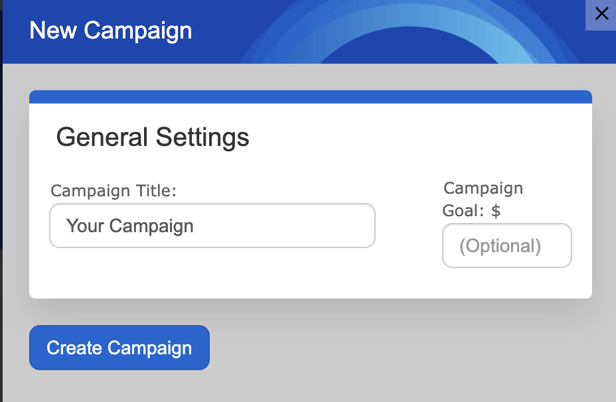 You can add a goal if you'd like or add one later
Note: URLs for your campaign are generated based on your initial campaign title, if you come back and change the campaign name later, the URLs will not change.
Campaign Dashboard Settings

Campaign Settings - Rename campaign, add goal, deactivate, delete or archive campaign page

Add Form - Adding a form will give you an additional donation for within this same campaign, you can add a separate text to give word for this form too

View Campaign Donations - Here you can see the donation for just this campaign
View Live Thermometer - Here you can see your thermometer, you can copy the hyperlink and display the thermometer (currently it is not embeddable but hopefully this will be a feature soon!)

Live Thermometer Settings - This is where you can edit the thermometer

General Settings - You can change the wording here and add a description, you can un hide the the instructions to display your text to give word and number on the thermometer. You can hide the pledge box here to only show fulfilled donations or hide if not utilizing the pledge functionality. You can also show your recent donors as they come in here
Thermometer Theme - Here you can change the colors of your thermometer or add a second logo or background image
Thermometer Trigger - The thermometer will not pull your trigger word automatically for the thermometer, make sure to add it here as well so it will display properly
Edit Page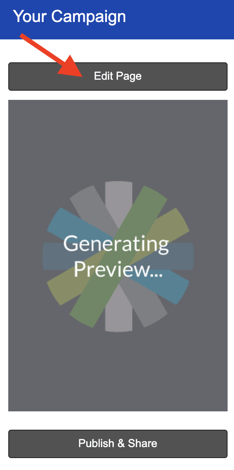 Edit Page - Here you will find all of the editable setting of the campaign page
General Settings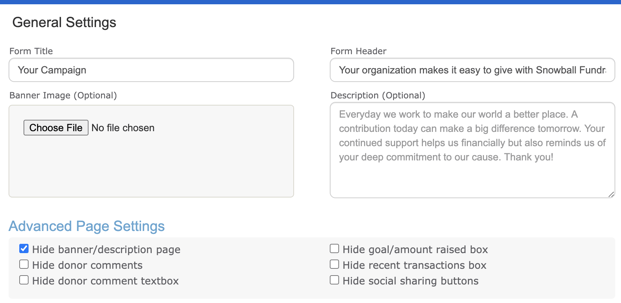 Form Title & Form Header - Here you can edit the name of the form/campaign and add information about your campaign
Banner Image - You can add a banner image to the banner of the description page
Description - You can add a description about your campaign here, this will display on your description page and in a box to the right on your donation page
Advanced Page Settings -

Hide banner/description page - This hides the description page, your donors will be linked directly to the donation page
Hide donor comments - This will hide donors comments from your page
Hide donor comment box - This will hide the option for your donors to leave a comment
Hide goal/amount raised box - This will hide the amount raised from being displayed on your donation page and receipt
Hide recent transactions box - This will hide the name and amount of your most recent donations on your page

Hide social sharing buttons - This will hide the social sharing buttons from displaying on your donation page
Form Theme - Here you can choose the color scheme to best fit your campaign, you can also add an additional logo to display or a background image that will appear on your donation form

Amount Settings - Here you can change, add or remove the amounts your donors can choose to donate. Donors will always see an other button and may input a custom donation, unless you hide it in the advanced settings below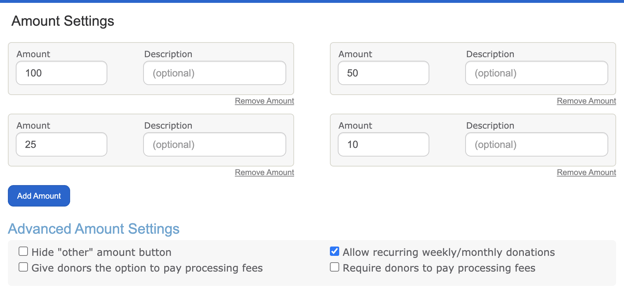 Amount Advanced Settings -

Hide "other" button - this will hide the other amount button and will prevent donors from adding a custom donation amount, they will only be able to donate the amounts you provide

Allow recurring weekly/monthly donations - unchecking this box will not allow a donor to set a recurring donation for this campaign

Give donors the option to pay processing fees - This will give your donors the option to add the processing fee amount to their donation.

Require donors to pay processing fees - This will automatically add the processing fee to your donors donation amount
Custom Fields - Here you can add a custom field for your donor to answer

You can add anything you'd like to ask, for example a church might ask, "Where would you like your donation designated to?" You can have a text field displayed where the donor can input their own answer, you can have a dropdown or have a checkbox option. You can add the options your donors have to choose from on the right and separate each by semicolon. You can also require this field so donor can not complete their donations without providing an answer
Organization Contacts & Messaging - Our campaign forms will use your default email and phone number to add as your contact information, if you'd like to replace this with another email or phone number you can do so here.

Email Receipt Messaging - Here you can add a message that will appear at the bottom of your receipt for your donors to see
Other Settings

Convert to pledge-only form - By selecting this option, your donation page will turn into a pledge page, donors will have the options to complete and pay their donation right then and there or will receive follow up emails from us to fulfill their pledge

Require donor mobile number - By selecting here, donors will be required to provide their mobile number before being able to complete their donation

Hide Returning Donor Option - By selecting this, each time your donor makes a donation they will need to input their contact and card information

The Returning Donor Option - We link card information to donor emails, if a donor chooses to leave their card on file the next time they come to the donation page they will see the returning donor screen, all they will have to do is choose an amount, frequency, when they click donate an email will generate and once sent, we capture the donation
Additional Dashboard Settings

Publish & Share - Here you will find the hyperlink to your campaign as well as embeddable donation buttons and the donation form widget

Text-To-Give Settings - Here is where you will set your trigger word, click the word to edit, it is not case sensitive

View Form Donations - If you have additional forms, you can look at form specific donations and reporting here
Archiving Campaigns
Archive Campaigns - You can archive and hide campaigns that you're no longer using. This allows you to see only your current active campaigns on your dashboard.