Have a list of pre-existing supporters that you want to link to your Snowball Supporter Management system? Here's how to add them all at once.
In the top right-hand corner of the Supporter Management area, click "Upload Supporters."
You'll be presented with this modal: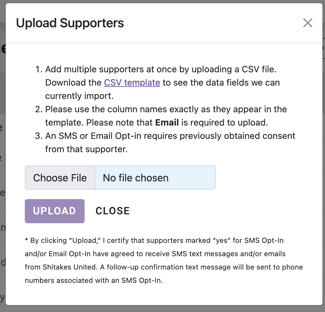 Clicking the CSV Template link will initiate a download with a formatted CSV file that looks like this:

Erase the example data and enter your own. Email address is required information; the supporter won't upload without that data. Be sure to save your changes and export the updated file as a CSV.
From the Snowball upload modal, select your CSV file and click the "Upload" button. A popup message will tell you how many supporters were successfully uploaded.

To learn more about your Supporter Management section click here.
To learn how to upload Transactions click here.