Keep track of all your supporters in one place with Snowball's supporter management (CRM) tools.
Any donor who's made a donation through the Snowball donation platform is tracked as a supporter; you can also add "offline" supporters manually in the CRM. Every supporter's details are logged in their individual "supporter record," where you can view donation history, recurring payments, contact information, offline donations and any notes entered by your organization.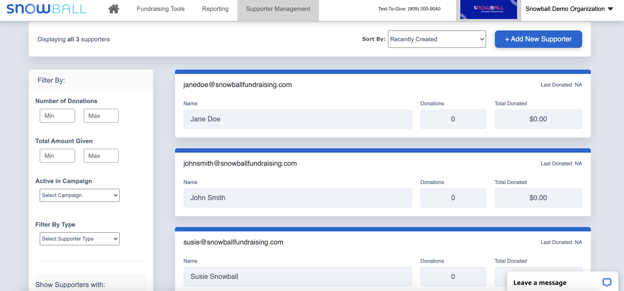 ---
Adding a supporter
Supporter records are automatically created and updated every time a live donation comes in through the Snowball fundraising platform. You can also create a record manually by clicking the "+ Add New Supporter" button in the Your Supporters section, or by selecting Add Supporter from the Supporter Management dropdown.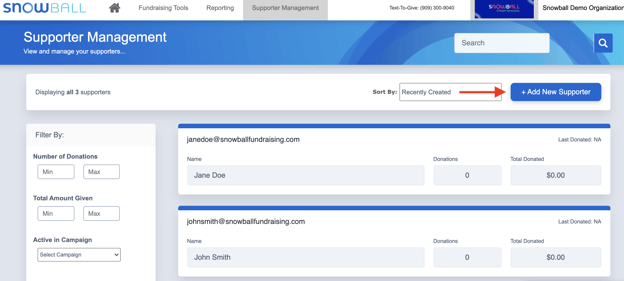 To access a supporter record, just click on the supporter's name in the list that appears in your Supporter Management dashboard. Each supporter record lets you view an individual's donor activity and recurring payments. You can also view and create notes, add offline donations, and more.
Modifying or removing a supporter record
To modify or remove a supporter record, click on the "Edit Supporter" button in the details box on the left-hand side of supporter record.
If a supporter does not have any online donations associated with them, the supporter record can be removed by clicking on the "Delete This Supporter" link at the bottom of the Edit Supporter form. Any offline donation that are associated with this supporter must first be deleted before the supporter can be deleted.
Please note that the Snowball fundraising platform uses email addresses to identify supporters and donations. This is a fixed attribute that can't be changed.
Filter and export supporters
You can filter and export supporters using various parameters, such as supporter type and total number of donations.